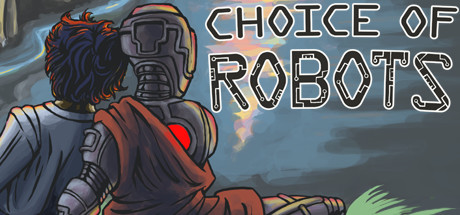 Full size
Bought it yesterday, played 10+ playthroughs in a day.
Choice of Robots is the interactive story of a twenty-four year old graduate in the Ph.D. program for Computer Science at Stanford in Palo Alto, California, who wakes up after a vivid dream about a robot they created on the day that they plan to create said robot. The year is 2019, and new technology abounds, from flying cars, to the almost-common use of 3D printers, and robots becoming more and more commonplace. The Player Character hopes to put together a robot with a fully functional AI in the hopes of earning their degree.
The main idea of the game is the struggle between you, you robot, humanity, love, fame, wealth and war (or no war at all if you managed to pull it off). The story unfold itself pretty well so just try the demo below if you are into text games.
Demo of the first 2 chapter
https://www.choiceofgames.com/robots/
Steam intro, if you rather read more than just start right away
About This Game
The robots you design will change the world! Will you show them the true meaning of love, or conquer Alaska with your robot army?
Choice of Robots is an epic 300,000-word interactive sci-fi novel by Kevin Gold, where your choices control the story. It's entirely text-based—without graphics or sound effects—and fueled by the vast, unstoppable power of your imagination.
Build a unique robot character–you choose everything from its shape to what it calls you
Instigate or prevent a robotic uprising
Teach your robots to love humanity, or disdain it
Build an artificial intelligence suitable to take control of the world's governments
Start a war against the United States, and win
Marry a human or an advanced robot, and start a family
Play out thirty years of your life as a brilliant robot maker, from graduate school near the present day to a future in which your robots have changed everything. Depending on your choices, your robots may be independent or obedient, clumsy or graceful, empathic or cold…and you yourself may live to an old age happily married or alone with only robots to comfort you.
Play as male or female, gay or straight, with nine characters to romance, four alternate climax chapters, and over seventy achievements to unlock.
Links for myself
Credits
https://www.choiceofgames.com/robots/credits.html
Steam:
http://store.steampowered.com/app/339350/
App Store:
https://itunes.apple.com/us/app/choice- ... d948038162
Google Play:
https://play.google.com/store/apps/deta ... mes.robots
Amazon Kindle:
http://www.amazon.com/gp/mas/dl/android ... mes.robots
Steam achivements:
http://steamcommunity.com//stats/339350/achievements
TV Tropes (where the intro from):
http://tvtropes.org/pmwiki/pmwiki.php/V ... ceOfRobots
For some reasons I listened the song over and over when I was playing it.
Nightcore - Love Will Rise Again [HD] by Inari, 2 Vibez - Love Will Rise Again